2022 Lecture Series Commencement! "Long Branch Saloon Shootout" A short film and lecture
March 10, 2022 @ 4:30 pm

-

8:30 pm

UTC+0
2022 Lecture Series Kick-Off – Thursday, March 10th, a short film and lecture about the famous Long Branch Saloon Shootout!
We are pleased to commence the 2022 Lecture Series!
Dinner starts at 4:30 p.m. and lecture starts at 7:00 p.m.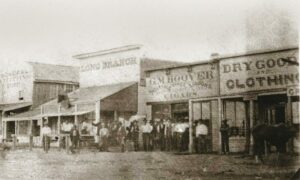 Description: Both the publisher and editor of the Virginia City Insider Magazine www.VirginiaCityInsider.com will be talking about and viewing the short film they were both in that Hawkins for Nevada Foundation, Inc. 501 (c) (3) produced in Virginia City in August of 2021. The Long Branch Saloon Shootout.
The Long Branch Saloon gunfight, on April 5, 1879, was a gunfight that took place at the famed Long Branch Saloon in Dodge City, Kansas, between Frank Loving and Levi Richardson, both gamblers who frequented the saloon.
Bio:  Kameron Hawkins in 2012, made the right decision in moving to Nevada, where he feels at home and fell in love with the people and their lifestyle. Before long Mr. Hawkins started hosting Gun Shows, Golf Classics and Farmer Markets etc. around the state, bringing the communities together that seek the goods and services these vendors provide. When his database grew to 180k+ here in Nevada, he started publishing the Great Basin Highway Magazine back in 2019 (Now known as the Great Basin Magazine – as of May 15th, 2021) fully encompassing the Great Basin area – Historical Preservation, Wildlife and Land Management, Adventure Destination, Tourism, Economics, and Relocation, is the services we provide and support. As the founder and chairman of Hawkins for Nevada Foundation, Inc 501 (c) (3), he has travelled to all 17 counties in Nevada every quarter supporting those who support others on many levels in business, economics, events, relocation, and Historical Preservation.
Lecture starts at 7:00 p.m. and costs $10 per person.
Come early and enjoy dinner before the lecture! We Serve dinner before the lecture at 4:30, 5::00, & 5:30 p.m.